Gold Coast Jet Boating Tours
If you haven't been aboard a high-speed jet boat before, there's no better place to try it out than on the Gold Coast. The pristine conditions and gorgeous scenery of this region make it the perfect destination for thrill-seekers ready for a unique experience out on the water. Learn more about our Gold Coast jet boating tours below and book your excursion today.
COMPARE Gold Coast Jet Boating Tours.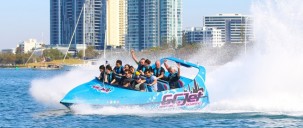 Gold Coast
Jet Boat - GC Jet Boat & Parasail
Price from$52
Savings-
Capacity?11 pax
Scenery5
Distance45km
Age (yrs)5+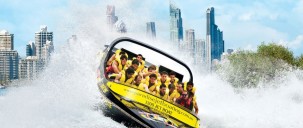 Gold Coast
Jet Boat - Paradise Jet Boating
Price from$80
Savings-
Capacity?22 pax
Scenery4
Distance35km
Age (yrs)4+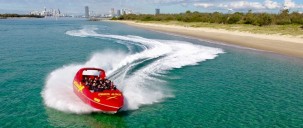 Gold Coast
Jet Boat - Jetboat Extreme
Price from$68
Savings-
Capacity?18 pax
Scenery4.5
Distance40km
Age (yrs)5+
Other Gold Coast Experiences
Explore Our Jet Boat Gold Coast Tours
Are you ready for an adrenaline-pumping adventure on the Gold Coast? Everything Australia offers several Gold Coast jet boat tours, which are all designed to get your heart racing as you take in the gorgeous sights of this coastal region.

Take your pick between three popular jet boat Gold Coast tour companies: GC Jet Boat & Parasail, Paradise Jet Boating and Jetboat Extreme. The trips include exquisite views of top tourist attractions in the area, such as South Stradbroke Island, Southport Yacht Club and Sea World.

Packed with scenery and adrenaline thrills, a jet boat ride with GC Jet Boat & Parasail takes you on a whirlwind adventure of the Gold Coast Broadwater. With a maximum capacity of 11 passengers, this small-group tour includes thrilling 360-degree spins, speeds up to 80kph and getting back to nature in the Moreton Bay Marine Park.

When you book with Paradise Jet Boating, you'll enjoy a fast-paced ride as your captain takes you from Main Beach into the open sea. During the 55-minute trip, you'll be screaming and smiling as you complete 360-degree spins and cruise along at speeds of up to 80kph.

Your tour includes entry to Moreton Bay Marine Park, where you can spot natural wildlife such as dolphins and birds. The route also takes you near South Stradbroke Island, where you might catch a glimpse of a native wallaby!

Another Gold Coast jet boat tour company, Jetboat Extreme, offers rides departing from Surfers Paradise. Your thrilling trip will have you holding on tight as your driver delights you with spins and slides as you zip along at up to 80kph. The 55-minute ride will fly by as you observe the magnificent sights of the Gold Coast, including pristine beaches, enormous mansions and luxurious beach clubs.

As you cruise through the ocean, the crew will provide commentary about the area, including history and notable locations along your route. Your driver will return you to Surfers Paradise, where you can enjoy the rest of your day by relaxing on the beach, shopping or heading out to check out the world-class nightlife in the area.

All tours give you unmatched views of major Gold Coast attractions and provide a memorable experience that you'll never forget. GC Jet Boat & Parasail, Paradise Jet Boating and Jetboat Extreme trips depart hourly between 10 a.m. and 4 p.m., every day of the year (other than Christmas Day).

Combine Your Jet Boat Ride with Another Thrilling Adventure
With its range of high-adrenaline activities, the Gold Coast is a fantastic destination for adventure seekers. Not only can you take a fast-paced voyage on a jet boat, but you can also bundle your trip with another experience to get your heart pumping.

If you'd like to explore some of the Gold Coast's land attractions in addition to the coastal sights, check out our Jet Boat & Aquaduck Combo. On this tour, you'll start the day by hopping aboard the amphibious Aquaduck vehicle, which can drive on land and in water. Cruise around the streets of the Gold Coast before driving to Broadwater, where your vehicle will turn into a boat.

After your Aquaduck experience, you will board your Paradise Jet Boating trip and take to the seas. At this point, you'll get your heart rate up as you whip around the sea and catch the iconic sights of the Gold Coast.

Looking to see the Gold Coast from a bird's eye view? Take a look at our Paradise Jet & Heli Combo. This exciting trip will take you out to sea aboard a 55-minute jet boat ride as well as carrying you up into the Queensland skies for a 5-minute scenic helicopter ride. You can choose to do the helicopter ride before or after your jet boat ride - or even on another day if you'd prefer.

As you soar high above the pristine beaches of the Gold Coast, you'll be able to observe local attractions including Palazzo Versace, Sea World, South Stradbroke Island and the Surfers Paradise skyline.

The Paradise Jet & Heli Combo is truly a one-of-a-kind adventure that allows you to explore one of Australia's most picturesque regions from two unique perspectives: by sea and sky.

Whether you choose to do a jet boat Gold Coast tour on its own or bundled with another activity, you're sure to have an unforgettable time. The high-speed thrill of zipping around the ocean on a jet boat can't be matched by any other activity.

If you're ready to book your Gold Coast jet boating adventure, you can check out all of the tour options from Everything Australia above. Our tour combos give visitors the best of both worlds, no matter how you'd like to admire the beauty of the Gold Coast.


rating
93% of new customers that used Everything Australia to provide advice and securely book their Australia activities have let us know they've had a good or excellent experience with us. Thank you.