BridgeClimb - Sydney Harbour Bridge Sydney
Highly Recommended
5% off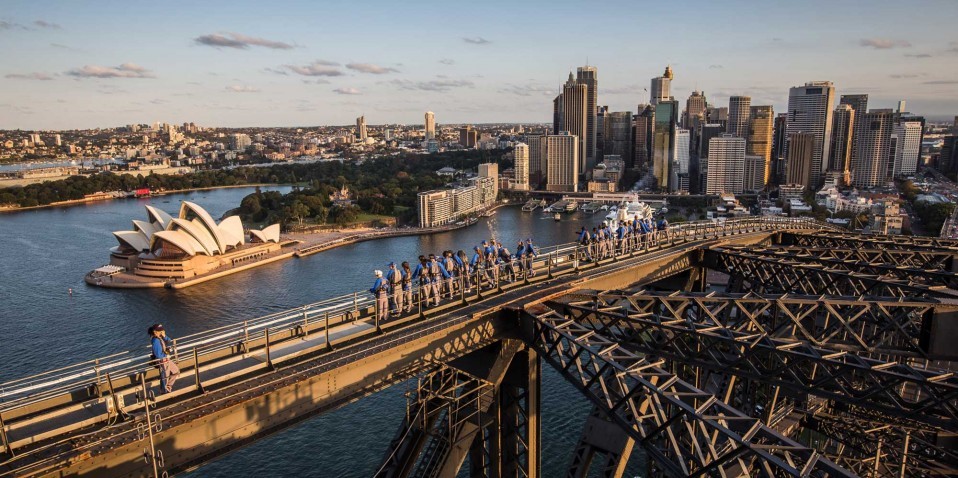 Sydney Harbour BridgeClimb
Highlights
View Sydney from the summit of Sydney Harbour Bridge
Climb over catwalks and ladders on the outer arch
Stand on top of the Sydney's most recognised icon
Choose to climb in the daytime, twilight or at night
Description
Sydney Harbour BridgeClimb
You haven't truly seen Sydney until you have experienced the breathtaking thrill of the Sydney Harbour BridgeClimb. The 3 hour guided BridgeClimb has become a must-do for tourists and locals alike, and it is easy to see why – the spectacular scenery encompasses a 360-degree view of one of Australia's most popular harbours, including the iconic Sydney Opera House to the East, and the beautiful Blue Mountains to the West.
The climb leads you on a steady incline along the outer arch of the Bridge to the summit, via catwalks and ladders. Groups of up to 14 people (all securely fastened to prevent slipping) may ascend at any one time and the friendly, professional Climb Leaders are always present to ensure you have a safe and memorable experience. Once you reach the summit, 134 metres above Sydney Harbour, you will immediately comprehend why the Harbour BridgeClimb has become such a popular experience – you are standing atop Australia's most recognised icon!
To ensure that your memory of a lifetime can be relived again and again, the professional Climb Leaders will take pictures of you on the climb, as well as group photos of the whole climb group (for safety reasons, climbers are not able to take personal items on the climb – including cameras). After descending, you will receive your group photo along with a commemorative Climber Certificate and Climber Cap. Your personal group photo can be purchased after the climb.
Summit Day Climb - 3hrs
A great day out for the family (minimum age of 8 years old); a day climb gives you a crystal clear view of the city as a buzzing hive of activity, complete with all of the city sounds filtering up towards you. From the top of the bridge, you will be able to experience the awe-inspiring views of the Sydney foreshore and the World Heritage listed Sydney Opera House – and on a clear day – you can even see the Pacific Ocean and the Blue Mountains.
Summit Twilight Climb - 3hrs
A beautiful sunset conjures up the romantic in all of us, but a sunset viewed from atop the Sydney Harbour Bridge is absolutely phenomenal! The city's flickering lights and dusky hues of twilight add a magical touch to the climb – a perfect start to the night for anyone. The twilight climb ascent begins during daylight hours, with the descent occurring after nightfall. Full night climb equipment is provided.
Summit Night Climb - 3hrs
From the Bridge summit at night, Sydney is undoubtedly a sight to behold. As you make your way along the incline, you are cloaked in soft darkness with only the bridge lights and a provided headlamp for illumination. When you reach the top, you are delighted with a landscape heavily studded with brilliant diamond lights – truly amazing. Full night climb equipment is provided.

Ultimate Climb - 3.5hrs
The Ultimate Climb is the most intrepid BridgeClimb available, scaling the entire distance of the Sydney Harbour Bridge with a climb path from the south side of the bridge, over the summit, down to the northern side and all the way back. You are rewarded with fantastic views across Sydney from an array of perspectives, and of course a huge sense of accomplishment for climbing over the entire bridge.
Trip Includes
BridgeClimb
Qualified Climb Leader
Safety briefing
Climb equipment including a bridge suit to be worn over your clothing, headset to hear the commentary, safety latch, hat, glasses attachment, wet weather gear if required, head lamp (night climbs only)
Climb group photograph
BridgeClimb cap
Certificate of achievement
Pass to the Pylon lookout
Lockers are provided as no loose items can be taken onto the bridge including cameras, video recorders, mobile phones, jewellery etc
Duration
Departures
Summit Day Climb - from 9am to 3pm
Summit Twilight Climb - departs from 4pm to 7pm (times vary according to sunset)
Summit Night Climb - departs from 5pm to 8pm (times vary according to sunset)
Ultimate Climb - departs 9am (available Friday, Saturday & Sunday only)
Departs Sydney Harbour Bridge Visitor Centre, 3 Cumberland Street, The Rocks, Sydney
Operates Thursday to Monday all year (except New Years Eve)
Other Information
Cancellations made within 8-14 days of the date of travel will incur a 50% cancellation fee. Cancellations made within 7 days or less will incur a 100% cancellation fee.
Exact climb times vary throughout the year due to the time of sunset. You will be advised of your exact climb time upon ticket confirmation
Sunset is approximately 8pm in summer (Dec - Feb), 6pm in autumn (Mar - May), 5pm in winter (Jun - Aug) & 7pm in spring (Sep - Nov)
This tour is very popular so we recommend booking several weeks in advance. If you are booking for less than 2 weeks in advance please contact us to check availability first
Minimum age 8 years old
Child rates apply (8-15yrs) & must be accompanied by an adult. 1 adult per 3 children
Minimum height requirement of 120cm
Tour departure times vary with the seasons & the sunset
Not suitable for people with walking disabilities or pregnant women over 24 weeks. If you're under 24 weeks pregnant, you can climb with a Certificate of Fitness signed by your GP
It is recommended you are of full fitness to participate in the Ultimate Climb
You must not participate in the climb if you believe, or have reason to suspect, that your health or physical condition may put your health & safety, or that of other climbers, at risk
Wear comfortable clothes suitable for the weather & enclosed rubber soled shoes such as runners or hiking shoes which offer comfort, support & grip
Cameras are not allowed to be taken on the climb
Climbers must pass an alcohol breath test before climbing & must not have a blood alcohol reading of 0.05% or higher
If you are 75 years of age or older or have any pre-existing health conditions you must have a Certificate of Fitness completed by your GP prior to your arrival at Bridge Climb. This must be presented to the team on the day of the climb
Genuine Customer Reviews powered by
Service rating:
The bridge climb is a great experience. First I thought it was overpriced, but later saw how many safety details are needed and how long it takes even to prepare. The climb itself was even nicer than expected, the views are out of this world! I did the twilight climb. Our climb guide, Joe, was extremely pleasant and fun to climb with and made us feel like one team going up and down the bridge. Highly recommend the experience.

Product rating:
Great experience with the booking and the actual event. No complaints whatsoever.
Service rating:
Yes and good driver. Good conversation. Clean car

Product rating:
fantastic experience...the guide was super
Service rating:
Good service: seen to have better conditions than direct booking!

Product rating:
Don´t miss!
You never forget the view over the city, just great :)
Service rating:
i think you should include all the fees for the trip in your price instead of being required to
Pay more once I get there.

Product rating:
This was great. I was very nervous and they help me through the whole climb.
Service rating:
Staff are responsive & helpful.

Product rating:
It's quite nice especially with such a good weather 😊
Service rating:
efficient service

Product rating:
Very good
Service rating:
Smooth easy transaction, received prompt confirmation via email. Very impressed.

Product rating:
Runs like clockwork. Great adventure 2nd climb will do again.
Service rating:
Hassle free booking

Product rating:
Highlight of a week in Sydney!
Service rating:
Really easy to book and helpful staff

Product rating:
A fabulous well organised experience
Service rating:
great very easy to deal with

Product rating:
we loved it
our guide was fabulous cass was her name
Service rating:
We had a ball, excellent service allround

Product rating:
Going to do it again sometime
Service rating:
No problems.excellent operation

Product rating:
Could not be faulted. Truly a great experience and all went smoothly. Thank you
Service rating:
Very prompt and efficient

Product rating:
Excellent
Service rating:
i thought it was easy and simple to book and organize, i had no problem in how smooth it went

Product rating:
i had a ball of a time
Service rating:
Booked in UK - all very efficient. Our chosen slot was not available but they came back to us very quickly with alternative times - excellent b

Product rating:
Utterly FAB experience thanks
Service rating:
People were friendly and helpful all the way.

Product rating:
Very good experience.
Service rating:
Well organised

Product rating:
Will remember this climb for ever, fabulous sunny day, Wonderful views, interesting commentary, fun bunch to climb with and amusing guide, Thanks Mitch
Service rating:
Good

Product rating:
Loved it
Everything Travel Group Review
I have done some amazing things over the last 13 years working in the tourism industry in Australia & New Zealand but this tour pretty much takes the cake in terms of the overall experience. From the check in process & safety briefing to the amazing tour guides, informative commentary and phenomenal views, the Sydney bridge climb is a world class tour and an absolute must do while in Sydney. I highly recommend booking the night tour as it's a bit cheaper than the popular twilight tour and you still get to catch the sunset and see Sydney at night in all its glory!
Value for Money
Thrill Factor
Wow Factor
Fun Factor
Latest Questions about BridgeClimb - Sydney Harbour Bridge (Sydney)
What age can a child walk the bridge without a parent

Comments
Do you have any climbs that are after 3pm?
Comments
I want to figure out the very best time to start. The ideal would be full daytime at the start, then sunset at some point, and then full night on the way down. What is the best time to start in late February when sunset is around 7:30. Is a 6:30 start time the best bet?
Comments
How many stops are in the Sydney Harbour BridgeClimb?
Comments
Are there any weight restrictions?
Comments
Can we carry water bottle along as three hours is long time to go thirsty.
Comments
On checking dates and times available for booking, no times listed after 3pm. Is it possible to book twilight or evening climb please?
Comments
How long is the actual climb fir the ultimate climb
Comments
If my 17 year old does the bridge climb, can he be the guardian for my 14 year old son. They are both very big.
Comments
HI, I am planing to climb the bridge during the day with my 3 children, together with my friend. My youngest is 7 years old, but already over 120 cm tall. Would she be alowed to join us?
Hi, I would like to buy my nephew (17 years) a ticket as a birthday present. As he is not full of age, are there any restrictions? Can he turn up by himself?
Comments
How much time does it take to do a bridge climb tour?
Comments
Climb suitable for 78 yr old
Comments
Is there a height restrictions?
Comments
Do you get photos taken and how much
Comments
Can you book a specific time for your climb
Comments
What happens if I book a Harbour Bridge climb in advance, but then on the day it is windy or wet. Do we still go?
Comments
what is the maximum party size for a group booking - all in one group ?
Comments
Hi,
Wonder if you can help me?
I am going to book four of us to do the bridge climb. (3 x adults and 1 x child of 13yrs). The question I want to ask is that my 13yrs old does want to try the climb but is worried incase she panics and doesn't like it once we start. I've been told the staff are very helpful and will guide her if this happens. Will this be the case? Sorry to ask but we all want to experience this trip to the max.
Comments
I have Asthma, I am fit, but would I be able to take my Inhaler on the climb with me?
Comments
If we are on an 11:50 flight from Cairns that arrives at 4:35 on Nov. 6 would be able to make the twilight climb without being pressed for time. This is our first trip to Australia and I'm not sure about the amount of time it will take to get from the Sydney airport to a hotel.( which we also need in Sydney), have a bit of time to wash up and grab a bite and then find our way to the bridge. Really want to do this but we're doing the sailing on the 7th and leaving on the 8th. Thank you.
Comments
what are your pirices at the end of march i can only see peak pricea
Comments
how far in advance do we need to book for a day climb across Sydney Harbour Bridge climb please? We are in Sydney around end October to mid November 2013
Comments
Hi I am very interested in doing this climb but I would not be overly fit but would be ok. I was just wondering the pace they climb and do they stop regularly. I am Irish and I'm not sure how I would handle it in the heat. I'd love some advice before I book it. I would want to be doing it on the 16th of September proble at night cause it be cooler.
Comments
I have to take medication for blood pressure, diabetes and cholesterol but have never had any illnesses with regard to these conditions. Would I be allowed on the bridge? And what is you disclaimer with regard to this. I am average fitness for a person of my age.
Comments
Can I bring my own camera or iphone and take photo on the bridge?
Comments
Are there any health restrictions such as angioplasty procedure 18 months ago no problems since no stents fitness level good .
Comments
what level of fitness is needed to climb the bridge
Comments
is it necessary to book in advance or will we be able to do it on the day?? For a daytime climb? How far in advance of departure time would we need to be there on the day to be sure of getting a spot? TQ!! :)
Comments


rating
93% of new customers that used Everything Australia to provide advice and securely book their Australia activities have let us know they've had a good or excellent experience with us. Thank you.