Easy to book - Secure Online Payments - Instant email confirmation - Flexible to make changes
Ballooning - Balloon Aloft Sydney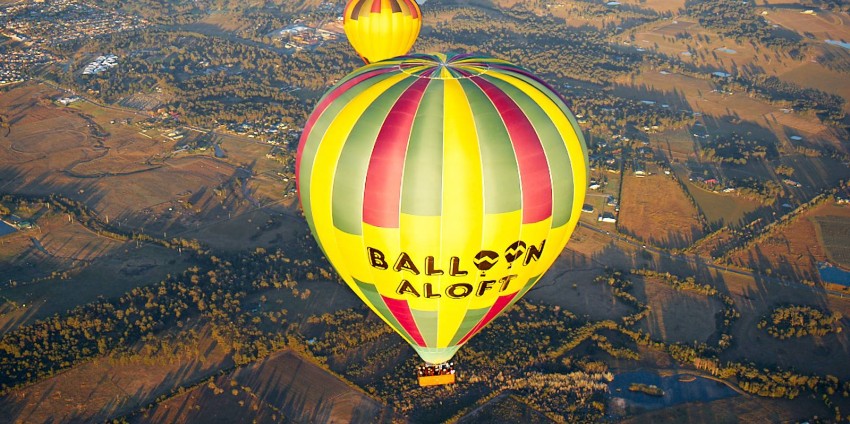 from AUD$319.00
Ballooning - Balloon Aloft
Description
Who hasn't wanted to experience the peaceful calm of a hot air balloon ride? Now you can experience this wonderful pastime over one of Australia's most beautiful areas, with Balloon Aloft!
Over thirty years ago, the very first commercial hot air balloon flight was conducted by Balloon Aloft in the Camden Valley, in Sydney's Macarthur region. Today, Balloon Aloft are still Australia's premier hot air balloon company, with multiple awards for their great efforts, so you know you are in good hands when you float with Australia's most experienced aeronauts.
Upon arrival at the launch site, you will be greeted with tea and coffee before boarding the hot air balloon for your sixty minute sunrise flight. The amazing experience of floating gently along – with nothing enclosing you in – is absolutely phenomenal, and the stunning views of the Camden Valley landscape and surrounds will leave you in total awe. Feel the cool breeze on your face as the sun peeks over the horizon, dissipating the light mist and revealing the patchwork of colours below. Marvel at the height of the balloon and the distance of your view as you snap pictures of this memorable moment.
As 'soft winds and gentle landings' (popular toast amongst balloonists) bring you back to earth, you, your pilot and your fellow passengers will be treated to a delicious gourmet breakfast – complete with champagne and fruit juice – at the amazing Barenz Café in Camden. As an added bonus, you will also receive a personalised flight certificate from the pilot and you may choose to purchase in-flight photos to recapture the feelings you had of being alive and free as you enjoyed your magical hour.
Balloon Aloft cater to small groups, large corporate groups, families (with children eight years old and above), individuals or couples wishing to enjoy an intimate VIP flight for two. This is an excellent option for people of all ages and the professional team aim to deliver the perfect experience.
Trip Includes
60 minute scenic balloon flight over Camden Valley
Gourmet breakfast & champagne celebration
Tea & coffee on arrival
Peronalised flight certificate
Duration
Departures
6am (before sunrise)
Meet at Barenz Café, Argyle Street, Camden (50 minutes south west of Sydney)
Operates Friday, Saturday & Sunday all year (except June & July)
Other Information
Children must be at least 8 years old
No child rates
Aviation Insurance Levy included in price
Transfers from Sydney are not included. If you require transfers these will need to be booked & paid for by you, separately to your balloon booking
Does not operate during winter months (June & July) due to weather constraints, however the Hunter Valley ballooning operates all year
1 Hour Balloon Flight:
adult AUD$319.00
child (8-12yrs) AUD$235.00
Genuine Customer Reviews powered by
Service rating: excellent
A very informative guide & unique experience visiting Stewart Island. We would have liked to have walked down to the beach thou, as other groups advised they did, however we did get out of the mini bus to view the chain

Product rating: excellent
The ferry left on time & it was a lovely trip across the strait
Service rating: excellent
Easy to book and the information I was looking for was there, re: transportation to and from.

Product rating: excellent
I like the fact that I did not have to look for transportation. I was picked up from my hotel and brought back to the train station for my way back to the city. Nice team and good breakfast.
Service rating: good
Good with their prompt email
Responses

Product rating:
Drove 1n1/4 hr to Camden and it wasn't on due to poor weather however they should at least supply breakfast even when the flight is called off.
Service rating: excellent
Belinda is very polite and pleasant to deal with and responds quickly to emails.

Product rating: good
The ferry is a good value way to reach the island. A warning about obtaining motion sickness tablets for those who are prone, would be appreciated!
Latest Questions about Ballooning - Balloon Aloft (Sydney)
Hi,
I am thinking of booking a hot air balloon ride for 2pax during end of August2017 however I have no idea how to trip to the depart place. We are staying near to Wynyard Train Station. Did you provide any transfers and how much its will cost. How to confirm the time for pick up and who we should contact to if is confirmed. Kindly clarify before I booked as this is the first time travel to Sydney city. Thanks
Comments
We are thinking of booking on 2 week in June. What are the weather conditions usually like and do you provide trips at that time of year?
Comments
Hi,
I am thinking of doing a hot air balloon ride for 2 pax. We are staying at the Meriton Serviced Apartments. Your website says you do transfers from Sydney CBD. How much will this cost? What is the start time and end time? Thanks much.
Comments
Hello,
We are interested in a ride on March 5, 2013. We are going to be on a cruise on Celebrity in Sydney and only have very limited time. We will be staying onboard the ship (no hotel). We are very unfamilar with your beautiful land. Would it be possible for you to assist us with transport to the launch site? Please let us know if this is possible. Thank you!
Comments
Hi, can you please tell me if the cost of $339 is per person or simply the hire cost for the hour.
Comments

rating
96% of new customers that used Everything Australia to provide advice and securely book their Australia activities have let us know they've had a good or excellent experience with us. Thank you.