Skydiving - Skydive Noosa Sunshine Coast Noosa
25% off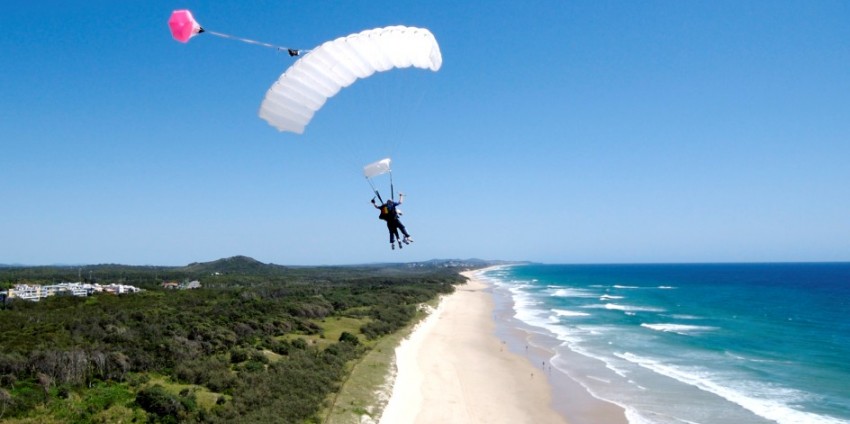 Noosa Skydiving
Description
Noosa – one of of Australia's prettiest coastal cities – is not only known for it's beautiful sand swept beaches, but also for its locals, who are known for their relaxed and carefree personas. This easygoing atmosphere makes Noosa an ideal relaxation-style holiday destination.
While you enjoy this relaxed environment, why not throw a 'spanner in the works' of your tranquil holiday and try something like skydiving, with Skydive Noosa on the Sunshine Coast? This will give you the chance try your hand at flying through the air (well, more like falling with style) in a safe manner. The team offer a tandem skydive with a beautiful backdrop of coastal Queensland at its best. See spectacular views of Bribie Island, Caloundra, Moreton Bay, and even the great city of 'BrisVegas' (Brisbane).
Depending on how much bravery you can summon up, there are a few options in height for you to choose from – 10,000ft or 15,000ft, which in turn, gives you a 30 or 60 second free-fall respectively. The choice is yours, and rest assured, regardless of which height you choose, you are in very capable hands. At the height of your free-fall, you'll be travelling at terminal velocity (which is over 200kms/hr). Experiencing the thrill of these speeds may change your perspective on the way you look at life, but it will definitely be for the better. Operating in the area since 1972, the team have a perfect track record in giving clients the ride of their lives. The friendly and professional staff have a great understanding of how excited you'll be and how much nervous energy you'll have on your special day, and it's their mission to make this one of the greatest experiences of your life. So what are you waiting for? This once in a lifetime journey will set the standard for all of your future endeavours, so 'jump' in today for a thrill that will last a lifetime!
Skydiving is weather permitting; if you're on holidays, plan your jump closer to the start, so that it can be reshuffled to suit. Skydive Noosa have DVD's of your jump available for purchase afterwards, so you can brag to your friends with indisputable proof.
Trip Includes
Scenic flight over spectacular Sunshine Coast surf beaches & Hinterland
Tandem skydive from 15,000ft
30 or 60 seconds of freefall depending on which height you choose
Soft sand beach landing on Coolum beach
Duration
Departures
9am, 11am, 1pm & 3pm
Departs from Sunshine Coast airport, Maroochydore (25 mins drive from Noosa). Transfers available from select Noosa locations twice daily
Operates daily all year
Other Information
You need to make your own way to the Sunshine Coast airport in Maroochydore which is a 25 minute drive from Noosa
Transfers from select Noosa locations available twice daily at 7am & 11.45am. If you require a pick up please advise in the booking form & we will arrange a pick up from the location closest to your accommodation
Minimum age is 12 years (children under 18 must have parental consent)
Latest modern parachutes equipped with backup automatic parachute deployment computer
There is a $35 APF compulsory levy (Australian Parachute Federation) payable on the day
For those weighing 95-104kgs there is a $50 surcharge payable on the day
A variety of DVD & photo packages available for purchase on the day
Normal Retail Price
(additional AUD$35.00 APF levy per person payable direct on the day)
15,000ft Skydive: AUD$364.00
All prices shown in AUD$.

rating
94% of new customers that used Everything Australia to provide advice and securely book their Australia activities have let us know they've had a good or excellent experience with us. Thank you.