Easy to book - Secure Online Payments - Instant email confirmation - Flexible to make changes
Skydiving - Skydive Airlie Beach Airlie Beach & Whitsundays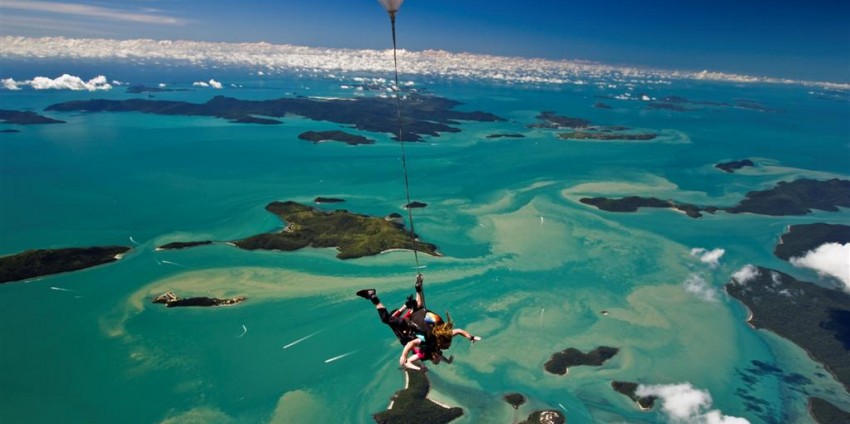 from AUD$354.00 (includes AUD$35.00 levy)
Skydiving - Skydive Airlie Beach
Description
Tandem Sydive in Airlie Beach with views of the Great Barrier Reef and Whitsunday Islands.
Could you think of a more beautiful way to experience a tandem skydive than being immersed in all the glory that is the Whitsunday Islands? With Skydive Airlie Beach, you can experience this amazing place with a view from the clouds!
Once voted in the top three places in the world to skydive, this stunning array of 74 islands is a scenic heaven, only able to be completely seen from the air. The friendly and professional jump team at Skydive Airlie Beach are extremely talented and most of the team are ex or current world and Australian Champions, so rest assured, you are in extremely safe hands. With many years of experience, safely thrilling customers, the Skydive Airlie Beach team will show you the time of your life in one of Queensland's most gorgeous paradise locations.
Once you arrive and are gearing up for your jump, your instructor will run you through an important briefing, allowing you to learn the skills that will ensure you and your instructor are as safe and as aero-dynamic as possible. Once on board you'll be able to see the exquisite nine kilometres of Whitehaven Beach, as well as parts of the awe inspiring Great Barrier Reef.
As you soar through the air during your free-fall, your heart will pound and you'll experience the biggest adrenaline rush you've ever had. When your parachute opens, the stunning 360 degree views will excite all of your senses and leave you in total awe – there's really nothing like the feeling of floating down from the sky after the most dramatic, life-changing event you've probably ever experienced! It's simply awesome.
At the end of your adventure, you will want to relive the experience over and over, so pick up a DVD of your jump from the staff.
Trip Includes
Return transfers from Airlie Beach accommodation or meet at the drop zone
Scenic flight with views of the reef and Whitsunday Islands
Jump certificate of your skydive
Skydive from 14000ft
Up to 60 seconds of freefall
Duration
Departures
8am (once the early departure is full, later departures are available)
Pick up from your Airlie Beach accommodation or from the ferry terminal, if you are coming over from one of the Islands, or meet at the Whitsunday airport in Shute Harbour, 3kms out of Airlie Beach
Operates daily all year
Other Information
If you wish to jump at a time other than 8am, please request in the 'additional information' field in the booking page and we will try to accommodate your request
Choose to jump from 3 different jump altitudes
Minimum age is 12 years
Latest modern parachutes equipped with backup automatic parachute deployment computer
There is a $35 APF compulsory levy (Australian Parachute Federation) payable on the day
No child rates
Please note that for passengers over 95kg surcharges apply. $50 for 95kg & over, $75 for 105kg & over. Maximum weight is 110kg.This is payable on the day of the skydiveDVD & photo packages available for purchase on the day (Photos for $89, DVD for $119 or DVD and Photos for $129)
Genuine Customer Reviews powered by
Service rating: good
One of our booking forms stated a departure time which ended up being the checkin time but a second form was correctly marked

Product rating: good
Both of us ended up being extremely sea sick on the dolphin encounter which could have been prevented if we had been advised to purchase (on the booking form) motion sickness tablets from the local pharmacy prior to sailing. This would have added to our comfort and pleasure. It would have been useful to have staff check my wetsuit headgear and goggle fitting before entering the water at least at the beginning. Mine was not fitted correctly and so really hindered my participation, enjoyment and comfort. Overall still a good experience aided by the extremely personable, friendly and professional staff.
Service rating: excellent
Wonderful family service from the Swimming with Seals team

Product rating: excellent
It was actually the Seal Swimming and it was brilliant. We didn't really have many expectations as we had originally wanted to go on the Dolphin Encounter but are really pleased we ended up doing the Seals. It was a very personal and intimate experiences as opposed to the big tourist boats of Dolphin Encounters
Service rating: poor
The booking was not very efficient, we received different documents with different dates on which was very confusing

Product rating: excellent
The trip was excellent. A truly lovely experience
The only suggestion I would have is whether they could have some way of identifying people I the water (?coloured wristbands perhaps) so you can share your experience directly with friends and family
Service rating: excellent
response quickly and effectively

Product rating:
cancelled
Service rating: excellent
Staff were very good instructions were good and clear desk staffexcellent and friendly

Product rating: excellent
an experience of a lifetime the crew were excellent very informative and easy to talk to and to swim with that many dolphins what an experience AWESOME!!!!
Service rating: excellent
Everything was very easy, good customer service would highly recommend.

Product rating: good
I would rate this as excellent but unfortunately due to engine problems on the boat we were unable to swim with the dolphins. They were very apologetic and we received a full prompt refund. Was very disappointed but we were lucky enough to see dolphins. The staff were brilliant and tried everything to fix the problem but to no avail. Will definitely be back to do this again.
Service rating: excellent
It was a brilliant day out. The team were very nice

Product rating: excellent
Dolphins are my favourite animals, it was nice to see them in their natural habitat.
Service rating: excellent
The service was excellent. The staff were very friendly and had a great sense of humour.

Product rating: excellent
Swimming with the dolphins was one of the best days of my life and I am 53 years of age!!!!!!!!!!! The friendly and informative crew were exceptional and they kept taking us to pods of dolphins as the dolphins took off from us. Thank you so much for this awesome experience. I recommend everyone do it!!!!!!!!!
Service rating: excellent
I had no trouble checking in when I got to the dolphin encounter but it helps if you print out your voucher!

Product rating: excellent
I had a great time swimming with the dolphins. It was a perfect day and there were dolphins everywhere! I was on a waiting list to actually swim with the dolphins and the staff was very helpful in getting my fitted for a wetsuit last minute and making sure my trip was the best!
Service rating: excellent
Managed to get us tickets for Dolphin Encounter at short notice

Product rating: excellent
Fantastic experience swimming with wild dolphins. Do it if you can!
Service rating: good
No hickups....all went well......thanks

Product rating: excellent
Really friendly guys and Gals.....no drama....kids loved it.
Service rating: good
The booking went alright, it allworked smoothly.

Product rating: excellent
We really enjoyed swimming with the dolphins, it truly was a very special experience. At Dolphin Encounter, the staff were very well organised, it all ran very smoothly to get the whole group kitted out and on our way to the boat. At sea, they really did their best to give us a great time. Very helpful, very knowledgeable staff. Many thanks!
Service rating: excellent
very helpful

Product rating: excellent
The girls were fascinated by the dolphins, the staff was friendly and very helpful.
Service rating: excellent
super nice, kind and professional staff.
it was the first time, that all the promises fulfilled and even more.
Product rating: excellent
Service rating: good
Ok nothing spectacluar

Product rating: good
Unfortunatly the dolphins were way offshore, the water cold and the weather was rough, none controllable by the event organisers. The staff were welcoming, knowledgable and helpful.
Service rating: excellent
The service was excellent.

Product rating: good
I would have rated this excursion excellent had I not experienced sea sickness (motion sickness). None the less, I highly recommend this excursions just remember to take the medication Dramamine if your prone to motion sickness. It was quite magical swimming among these highly intelligent creatures.
Latest Questions about Skydiving - Skydive Airlie Beach (Airlie Beach & Whitsundays)
Hi - do you do pickups from Shute Harbour accommodation?
Comments

rating
96% of new customers that used Everything Australia to provide advice and securely book their Australia activities have let us know they've had a good or excellent experience with us. Thank you.