Skydiving - Rockingham Beach Skydive Perth
7% off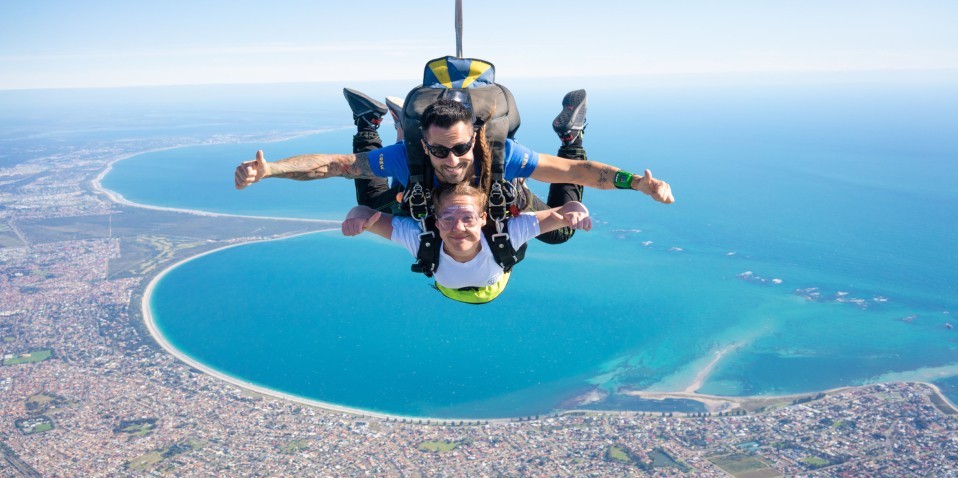 Perth Tandem Skydiving
Description
Up to 15,000ft skydive – Rockingham Beach
A tandem skydive at Rockingham Beach is the closest beach skydive to Perth city. Enjoy magical views of the amazing Western Australian coast and beach landing!
Your friendly tandem instructor will guide you through the entire process; your safety is paramount to the friendly and experienced skydiving team at Perth Rockingham, so your journey of a lifetime begins with a safety briefing. You'll be securely attached to your tandem skydiving instructor at all times, and – following a panoramic ride in the plane to your desired height – you'll be ready to go. Once you reach this point, your nerves will be on full alert, yet your excitement will push you to continue. As your instructor begins the countdown, you will probably realise the enormity of what you are about to do, so take a deep breath, muster your courage and JUMP!
Soaring through the air, you will experience all the thrills and adrenaline pumping excitement that comes with free-falling from up to 15,000ft. As you reach speeds of up to 200km/h – in the skydiving world, sometimes called terminal velocity – you will be white-knuckled with excitement and adrenaline, but then at 5,000ft, your instructor will pull the cord to open the chute. From this point on, you'll gently float back to earth through a calm sky, where not only will you be astonished by the gorgeous scenery, but you'll also be recovering from an awesome, adrenaline-dumping adventure, leaving you feeling high and extremely content. When you reach the beach, you will feel a new sense of achievement with every fibre of your being.
The highly competent team have well-captured digital stills and video package available for purchase, so you can relive your greatest moment again and again.
This is an experience that will stay with you for the rest of your life, don't let this adrenaline pumping journey pass you by – book today.
Trip Includes
Up to 15,000ft tandem skydive with amazing beach & ocean views
Experience the thrill of freefall for up to 60 seconds
Rockingham beach landing
Full safety briefly from your professional tandem master
All equipment & skydive gear
Duration
Departures
7am, 9am, 11am & 1pm
Operates all year
You need to make your own way to Rockingham Beach or get free transfers on Sat, Sun, Tue & Wed
Other Information
The Skydive Rockingham Beach drop zone is located in Rockingham which is 40 minutes drive south of Perth. You can catch a bus or train from Perth city or drive yourself
Skydiving is a weather-dependent activity. Australian coastal weather can be unpredictable & can change in a relatively short period of time. If your skydive is cancelled then you can reschedule or receive a full refund
Max weight is 110kg. Please advise at the time of booking if you are over 94kg as weight surcharges apply. 94-104.9kg = $50 surcharge, 105-110kg = $75 surcharge. This is payable on the day of the skydive
Minimum age is 16 years. Under 18 years must have written consent from a parent or guardian who must be present on the day
You should be of average fitness & flexibility
No alcohol may be consumed 8 hours prior to your skydive
Wear loose, casual clothing that is not restrictive & closed toe footwear such as sneakers or trainers
Video & photo packages available for purchase on the day of your skydive


rating
93% of new customers that used Everything Australia to provide advice and securely book their Australia activities have let us know they've had a good or excellent experience with us. Thank you.