Skydiving - Jump the Beach Brisbane
28% off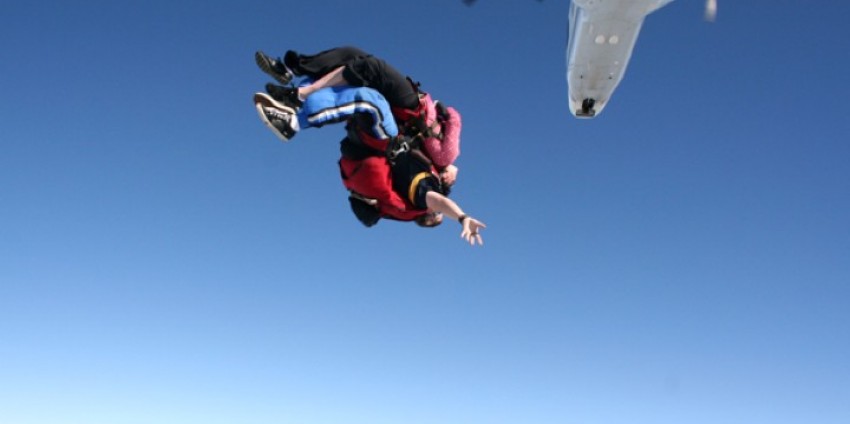 Brisbane Beach Skydiving
Description
Brisbane's only Skydive with a Beach Landing
Looking to skydive in Brisbane? Then you definitely can't look past Brisbane's only skydiving adventure with a beach landing! Jump The Beach Brisbane – set between the stunning Glasshouse mountains and beautiful Moreton Bay Island – allows you to touch down on the gorgeous northern beaches of Brisbane.
Jump The Beach Brisbane's tandem skydive allows you to experience the ultimate free-falling adventure – begin your descent at 14,000ft, with stunning scenery filling every one of your senses.This pure adrenaline pumping adventure awaits – let yourself experience a life changing journey that you'll never forget. Bring your friends or family – not only for the support, but also to enjoy a beautiful day out in Redcliffe.
Jump The Beach Brisbane is part of The Australian Skydive Company, which includes Skydive Cairns, Jump the Beach Mission Beach and Jump the Beach Brisbane. Between these three sites, this skydiving company have over 23 years of tandem skydive experience, meaning that you're in very safe and capable hands.
The great thing about Tandem skydiving is that it requires no prior experience. Just walk in to the Jump The Beach skydive office with a prior booking and they will teach you everything you need to safely free-fall at terminal velocity. Once you have gone through the safety briefing, climb aboard the plane and ready yourself for a brilliant adventure. From 14,000ft in the air, you are immersed in stunning scenery – whether you look left, right, up or down, you'll be amazed at the awe inspiring views. This includes views of beautiful golden beaches, the Glasshouse Mountains, Moreton Bay and the Islands of Moreton and Bribie.
As your instructor counts down to the jump, try to steel all your nerves and let yourself feel the moment. Soar through the air at 220km/h, feeling every bit of adrenaline rushing through your veins. Then, once the canopy opens at around 5,000ft, be amazed at the once in a lifetime views surrounding you. Landing on the golden sands of the beach just adds icing to your already beautiful cake.
As one of the most thrilling adventures you can participate in, tandem skydiving will change you and the memory will stick with you for the rest of your life. Almost anybody over the age of 14 can enjoy this ultimate thrill, so go alone, as a group or with family, but just go!
Trip Includes
Return transfers from Sandgate train station (if needed)
Flight over Brisbane, Moreton Island & Glass Mountains
Landing on Suttons Beach, Redcliffe
Jump certificate of your skydive
Brisbane tandem skydive from 14,000ft with up to 60 seconds of freefall
Duration
Departures
8am (if self driving top Redcliffe)
10.30am (if getting picked up from Sandgate train station)
Pick up from Sandgate train station or make your own way to Redcliffe
Operates Friday to Monday only all year
Other Information
If you have your own vehicle then you can meet at the skydive shop in Redcliffe (30km north of Brisbane) at 8am. If you don't have your own transport then you can catch a train from Brisbane to Sandgate and you will get picked up by the skydive team around 10.30am. Pick up time needs to be confirmed the day before when you call up to reconfirm your booking
All tandem jumps are from 14,000ft
Minimum age is 12 years
Latest modern parachutes equipped with backup automatic parachute deployment computer
24 hours must have elapsed since any deep water dive
There is a $35 APF compulsory levy (Australian Parachute Federation) payable on the day
No child rates
Max weight is 110kg. Please advise at the time of booking if you are over 95kg as weight surcharges apply. 95-99kg = $25 surcharge, 100-104kg = $50 surcharge, 105-110kg = $100 surcharge
Video & photos package available for purchase on the day
Normal Retail Price
(additional AUD$35.00 levy per person payable direct on the day)
15000ft Skydive: AUD$354.00
All prices shown in AUD$.
Genuine Customer Reviews powered by
Service rating:
A phone number to call would have been great

Product rating:
Fantastic company ,professional yet fun.
Service rating:
See below comments

Product rating:
Travelled all the way to Redcliffe at 7.30am from South brisbane, to be told that i would be on the fourth flight so i had to go away for an hour and a half.
Then when i got back, they got everyone into harnesses ready to go, only to turn around at the last minute and say that it was cancelled.
I am all for safety but don't they check weather forecasts, they should have been able to tell if we were flying before everyone arrived, people take days off work and plan this only to be let down at the last minute, very unprofessional.
Then eventually it took 45 minutes to eventually get a new date organised
Latest Questions about Skydiving - Jump the Beach (Brisbane)
Does the price of $259.00 include pictures and movie of the skydive
Comments
Can my family members (mum & sister) take the return transfers from Brisbane central bus station with me?
Comments
What happens in inclement weather?
Comments
How old must you be to skydive
Comments
I would like to buy a jump to the beach for my son he lives in Brisbane as a birthday gift ,can he use the voucher at the weekend?How long would the voucher be valid for.I live in Northern Ireland
Kind Regards.
Comments

rating
94% of new customers that used Everything Australia to provide advice and securely book their Australia activities have let us know they've had a good or excellent experience with us. Thank you.