Easy to book - Secure Online Payments - Instant email confirmation - Flexible to make changes
Minjin Jungle Swing - AJ Hackett Cairns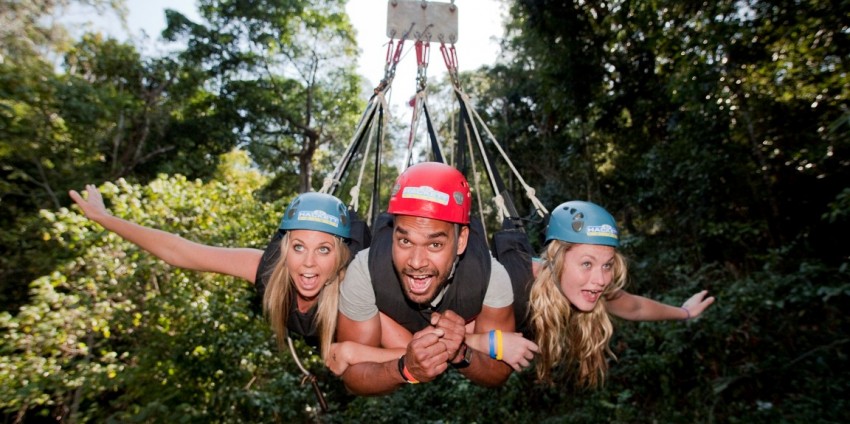 from AUD$129.00 (includes AUD$10.00 levy)
Minjin Jungle Swing - AJ Hackett
Description
For maximum thrills in a very special rainforest location, visit AJ Hackett's incredible site located in Cairns, where you will see the first tower on earth built specially for bungy jumping, as well as the one of a kind Minjin Jungle Swing.
In 2000, the design of the Minjin Jungle Swing was conceived, and it was built to complement the bungy, enabling one to three people to enjoy hair-raising levels of acceleration and speed. The Minjin Jungle Swing is a swing that can accommodate multiple people and involves a 3.5 second vertical drop from 45 metres to a mere 1 metre above the ground, attaining terrifying speeds of up to 120 kilometres per hour.
The stunning natural landscape surrounding the site and the tower's specially chosen position make this one of the world's most scenic bungy sites.
Hang out at the main building, which was built in 1999 and where you can purchase merchandise, have a drink at the licensed bar and have your questions answered at the reception area. The main building goes well with the natural rainforest surroundings and perfectly complements the unforgettable experiences that await.
Whether you'd like to spend your Sunday rocking out to live music, hurtling through the rainforest canopy on a giant swing, admiring spectacular views from atop the tower or plummeting to earth via a thrilling free fall, your senses will be given an energising little jolt!
Trip Includes
Door to door transfers from all Cairns and Northern Beaches accommodation
Minjin Jungle Swing
Swing certificate
Duration
Allow 4 hours with return transfers from Cairns accommodation
Allow 1 hour at Smithfield bungy site if driving yourself (20 minutes north of Cairns)
Departures
9am, 11am, 1pm
Pick up from your Cairns hotel or self drive to Smithfield bungy site (20 minutes north of Cairns central)
Operates all year
Other Information
DVD's & Photos can be arranged on the day when you check in on site
Minimum solo weight is 55kg. Maximum weight per person is 150kg. Maximum combined weight 240kg (2 or 3 persons)
Minimum height 120cm
Licensed bar on site
It is possible to swing with up to 3 people at once
Upgrade to the Big Day Out Package which includes unlimited bungy jumps, the Minjin Jungle Swing, photos & lunch
A $10 levy per person will be charged to defray the cost of risk management & public liability insurance. This is payable direct to AJ Hackett on the day of activity
Upgrade this activity to one of the following combos:
Prices & Options
(includes AUD$10.00 levy)
Currency Converter
Minjin Jungle Swing:
swing + photos AUD$129.00
Genuine Customer Reviews powered by
Service rating: excellent
This company made everything so easy for me to book our activities in Queenstown. They understood what we were looking for and explained the trips well. We had a fabulous time. Thank you😀

Product rating: excellent
My son and I really enjoyed our Four Wheel Drive trip to Skippers Canyon. Our driver James was informative and made the trip very memorable. Thank you Nomad. We will recommend you to our friends. I see today that the Skippers road has been rated as 1 of the most dangerous. As someone who has just completed this trip I would have to say it is not scary but very beautiful. Both my son and I felt very safe.
Service rating: poor
The lady (Donna?) not very helpful on the phone

Product rating: good
Our driver kept checking his cell phone, turning around to talk to us and to the guy in the front seat, instead of keeping his eyes on the road! This was done on Skippers road. So very scary, not only because of the road, but the lack of safety from the driver
Service rating: excellent
The service was brilliant, the tour guide knowledgable and lovely person all round. Extremely helpful as well.

Product rating: excellent
I can't wait to take the rest of my family on this trip to Macetown, well worth the money and my son and I really enjoyed ourselves.
Service rating: excellent
Great,

Product rating: excellent
Great ,
Everything Travel Group Review
Don't have the courage to bungy jump? Try the swing with a friend by your side instead.
The great thing about this activity is that you dont have to throw yourself off a ledge, just pull the rip cord and away you go! Tons of fun, even for those brave souls who have done plenty of bungy jumps.
Suggestions: If you're not sure if you can handle the fear of bungy jumping then book the swing. if you're brave enough afterwards you can do the bungy too!
Thrill Factor
Wow Factor
Fun Factor
Latest Questions about Minjin Jungle Swing - AJ Hackett (Cairns)
How high is the Minjin Swing? It looks really scary! Keen to have a go?
Comments

rating
96% of new customers that used Everything Australia to provide advice and securely book their Australia activities have let us know they've had a good or excellent experience with us. Thank you.