Easy to book - Secure Online Payments - Instant email confirmation - Flexible to make changes
Dolphin Swim - Swim with Wild Dolphins Perth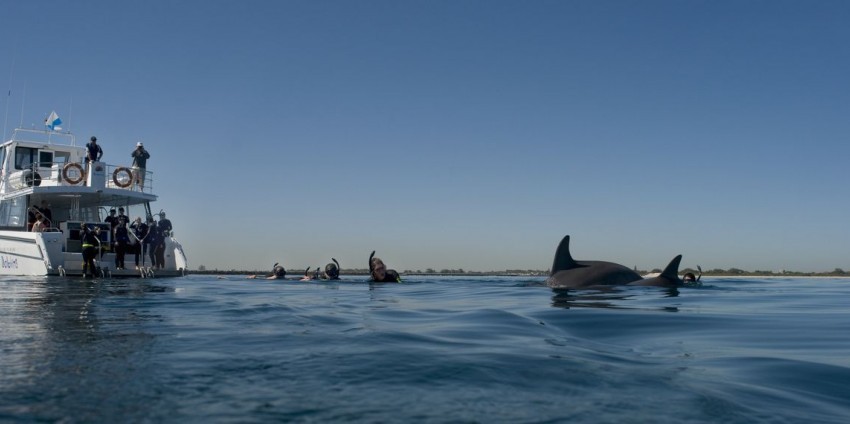 from AUD$205.00
Swim with Dolphins in Perth
Description
This would have to be the ultimate experience for anyone who has always wanted to swim with wild dolphins. This tour offers visitors the opportunity to swim alongside these beautiful and intelligent mammals within their natural environment.
You do not have to be an expert swimmer or seasoned snorkeler to be able to participate – your friendly and experienced tour guides at Rockingham Dolphins will be on hand to assist you whenever necessary. The guides have your safety in mind at all times and will make sure that you feel comfortable and confident in the water so that you can fully experience the wonder of swimming with dolphins.
As you set off on your adventure, you will cruise the private bays and islands of gorgeous Rockingham. Keep your eyes out for any one of the 180 dolphins who call the area home. Once the dolphins are spotted, it's time to get in the water with them! The crew will make sure that you're suited up in your wetsuit, mask and snorkel and you will make your way to the swim deck. Once everyone is ready, the skipper will give the signal for you to enter the water. Hold onto your mask and snorkel as you jump into the refreshingly cold waters - lucky you are wearing a wetsuit!
Marvel at the dolphins as they frolic in the water, splashing and jumping like a group of playful children. These masters of the ocean are always happy to see you, because Rockingham Dolphins have spent the last 20 years gaining their trust. These beautiful creatures will swim right next to you, casting an inquisitive eye over your group and darting around like living grey projectiles. It is so important to remember that you are in the presence of wild animals. This is also one reason that visitors are not allowed to feed the dolphins. Keep in mind that you are a visitor in their world, so please be cautious and respectful of these majestic mammals.
The amount of time that you will spend in the water and in the presence of the dolphin depends entirely on the dolphins' behaviour, however generally the tour will last between three and six hours. This truly is a memorable and thrilling experience for young and old. You will never forget your time swimming with these wonderful animals!
Trip Includes
Central Perth transfers
Boat cruise
Swimming with wild dolphins (swimmers only)
Light lunch
Fresh water, tea & coffee
Informative commentary
Wetsuits, mask & snorkel (swimmers only)
Duration
Allow 6 - 9 hours (3 - 6 hour cruise subject to dolphin sightings & behaviour)
Departures
Departs 7am (returns between 1pm & 4pm)
Departs Wellington Street coach stand, central Perth or meet at Val Street Jetty, Rockingham (Rockingham is 50km south of central Perth)
Operates daily September to May
Other Information
Recommended for children over 6 years who are confident being in the water
Remember that we are working with wild animals. Please approach each encounter with caution & respect & never assume that we have control over the dolphins appearance or behaviour
If you prefer to get picked up from your hotel rather than meet at the Wellington street coach stand then transfers from your central Perth hotel can be arranged for an additional $20 per person
There is no kiosk onboard the boat so feel free to bring your own snacks
The tour will last approx 3-6 hours depending on dolphin behaviour. Tours may occasionally run longer & you will need to allow extra time for coach transfers to & from Perth
You don't have to be an expert swimmer to participate & the expert guides are fantastic at getting nervous swimmers & first time snorkellers through the experience
Operates September to May only
This is a wildlife encounter so unfortunately we cannot guarantee you will see dolphins however we do have a 99% success rate
If you do not want to swim with the dolphins then you can book on as a spectator, however spectators must be accompanied by another person doing the full paying dolphin swim. If not, you need to book on the Dolphins, Penguins & Sea Lion Adventure cruise listed on our website
Bring with you a swimsuit, towel, change of clothes, hat, sunscreen, camera & jacket
Between the 25th December & 15th January spectators (dolphin watch) cannot book as the trips are full with dolphin swimmers
Dolphin Swim:
self drive to Rockingham AUD$205.00
central Perth pick up AUD$215.00
return Perth hotel transfers AUD$225.00
Spectator:
self drive to Rockingham AUD$95.00
central Perth pick up AUD$105.00
return Perth hotel transfers AUD$115.00
Genuine Customer Reviews powered by
Service rating: good
Great lunch and beautiful cruise. Farm tour was fine.

Product rating: good
Great lunch and beautiful cruise
Service rating: good
Friendly very helpful customer service.

Product rating: excellent
Steamship lake cruise experience was incredible and the BBQ lunch was amazing. We loved it. Definitely do it again.
Service rating: excellent
Really enjoyable day and very good food!!
Product rating:
Service rating: good
We really enjoyed the cruise, the farm show and the BBQ lunch but there are 2 little things that would make it an exceptional experience instead of 'just pleasant'.
The first thing is that we could hear and understand so little of what was said at the farm show. We are native English speakers with good hearing but really got very little of what our friendly guide said.
The second thing is that the lunch is far too rushed. adding a half hour to the time allowed for lunch would make it simply wonderful. I don't think people would eat up all the profits from the company in that half hour, but they would have time to finish their dessert and coffee. From our table we had a wonderful view and the food was top notch, well done and thank you!
Product rating:
Service rating: excellent
A fantastic trip, lovely sunny day, lunch was very nice especially the lamb. However the chicken was overcooked.
The gardens at the lodge are delightful .

Product rating: excellent
Wonderful excursion the weather was fine the food was great
Service rating: good
The on-line booking process the evening before was frustrating as having booked on-line and paid on my card, the final stage was a message to tell me the booking was not confirmed as it was out of hours and I would receive a confirmation email when the office opened at 0800 the next morning. I didn't receive the confirmation email and had to chase the confirmation by the on-line chat.

Having said that the check in at the Quay was easy and the staff were most helpful giving advice where best to park and how to find the quay. The ride across the lake on the Earnslaw was great fun and the BBQ lunch at the farm superb. We did not join in the farm visit and sheep shearing demo but sat on the terrace finishing our rather good bottle of wine while taking in the views.
Product rating:
Service rating: poor
L'excursion a du charme zt un cadre magnifique cependant, tout est trop minutéet de manière trop serrée de sorte que nous ne pouvons profiter pleinement de ce qui nous est proposé. Ca ressemble plus à une usine qu'à une excursion touristique.

Product rating: bad
Je n'ai eu le temps de rien acheté faure de temps
Latest Questions about Dolphin Swim - Swim with Wild Dolphins (Perth)
Hi - I wanted to take my 4 yr old daughter with me, she is a good swimmer. But of course the will have her floaties on be swimming with me. Can she come on the tour to swim with the dolphins. If so, how much?
Comments
my daughter is 13 going to be 14 31st dec can she swim with the dolphins if not do you know where we can do this for her age please
julie
Comments

rating
88% of new customers that used Everything Australia to provide advice and securely book their Australia activities have let us know they've had a good or excellent experience with us. Thank you.