Easy to book - Secure Online Payments - Instant email confirmation - Flexible to make changes
Green Island Reef Cruise Half Day - Reef Rocket Cairns
Current Special
Glass bottom boat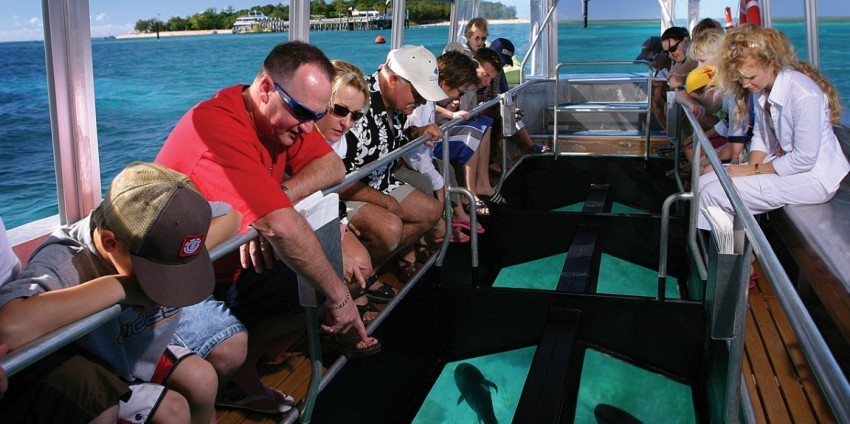 Green Island Glass Bottom Boat Tour & Snorkelling
Quick Facts
A beautiful coral cay with unique island rainforests & sandy beaches
Just a 45 minute cruise to Green Island
Departs 9am & 1 pm daily
2 hours to enjoy Green Island
Includes snorkelling or glass bottom boat
Maximum of 120 passengers with 4 crew members
No Environmental Management Fee
Suitable for children of all ages
Description
Take a half day cruise to Green Island on the Reef Rocket, a state-of-the-art high speed catamaran that's fully air conditioned and exudes casual charm. It takes 45 minutes to get to Green Island from Cairns.
Green Island is a protected Marine Park which sits on the Great Barrier Reef. This striking coral cay is unmistakable when viewed from the air due to its distinctive swathes of rainforest enclosed within a circle of unspoilt white beaches and stunning coral reefs.
Big Cat Green Island Reef Boat Tours, which operate in Cairns, North Queensland, run half day and full day cruises to Green Island.
A wide variety of activities is available to passengers, who may alternatively decide to just lounge on the pristine beach instead. You will be assisted by an enthusiastic crew who will help you to arrange and coordinate the activities you'd like to participate in on Green Island.
The Great Barrier Reef
Experience life under the sea and the astonishing coral reefs around Green Island, where you will be immersed in a colourful and fascinating world full of vibrant fish, giant clams, anemones, sea turtles, starfish, sea urchins, eels, sponges and much, much more.
Swimming, snorkelling and scuba diving are a wonderful way to explore the waters surrounding Green Island and can be enjoyed any time of year. Alternatively, you may wish to look at the fascinating fish and coral from a glass bottomed boat or semi-submersible craft. A scenic flight by helicopter will enable you to view the reef from the air, a breathtaking experience that should not be missed.
The Island
The tropical island paradise that is Green Island is one of the most special spots on the Great Barrier Reef, with extensive boardwalks that enable exploration of the luxuriant rainforests. The Green Island Resort adds a touch of luxury and visitors are welcome to check out the shops or use their facilities which include restrooms, change rooms, showers and lockers.
You're free to explore the island as you please or just lounge on the powdery white sands.
Lots of fun can also be had on Green Island with inexpensive activities such as Beach Hire and Marineland Melanesia.
Trip Includes
Return coach transfers from your Cairns accommodation (optional extra)
Cruise to Green Island aboard "Reef Rocket" a modern catamaran
A half day reef boat tour allows 2 hours on Green Island
Choice of Snorkelling Gear or Glass Bottom Boat tour ($14 extra to do both)
Snorkelling demonstration & reef presentation en route to Green Island
Use of Big Cat vessel during time at island as an air-conditioned base
Optional Extras
In addition to your cruise fare inclusions, a range of exciting optional activities, at an extra cost, are available for your enjoyment. These activities can be booked on board the boat on the day.
Our Semi-Submarine lets you explore the underwater world in air-conditioned comfort with a lively fish feeding display & commentary
Glass Bottom Boat coral viewing tours with fish feeding & commentary. A favorite for reef tour enthusiasts
Hire a canoe or a beach lounge & umbrella
Visit Marineland Melanesia's nautical museum & see the live crocodiles
Duration
Departures
9am & 1pm
Departs from Cairns Marlin Marina
Return coach transfers from your Cairns accommodation available (pay driver on pick up)
Operates daily all year
Other Information
All inclusive price for basic day of snorkelling or glass bottom
Full day option also available
Hotel transfers available from $20 per person & payable to driver on day when you are picked up
Family rates available
Floatation vests, wetsuits or lycra suits $8 adult, $4 child
Boat snorkel trips $45 adult, $36 child
Marineland Melanesia $19
Helicopter Scenic Flights (subject to availability on the day)
No scuba diving available
Toilets and baby change facilities
Child rates for 4 - 14yrs. Children under 4 years free of charge
Soft drinks & alcoholic beverages can be purchased on board
Disposable underwater cameras available for sale on board
No Environmental Management Fee (EMC)
Normal Retail Prices
Cruise & Snorkel:

adult AUD$98.00
child (4-14yrs) AUD$49.00
family (2ad + 2 ch) AUD$245.00

Cruise & Glass Bottom Boat:

adult AUD$98.00
child (4-14yrs) AUD$49.00
family (2ad + 2ch) AUD$245.00

Cruise Snorkel or GBB + semi-sub:

adult AUD$118.00
child (4-14yrs) AUD$59.00
family (2ad + 2ch) AUD$295.00
All prices shown in AUD$.
Upgrade this activity to one of the following combos:
Everything Travel Group Review
Green Island is the perfect location for those who prefer to be land based rather than doing an outer reef trip where you spend the entire day on a boat. After a quick 45 minute boat ride from Cairns you have 2 hours to spend on Green Island either relaxing on the beach, snorkelling or taking part in one of the many optional activities. You can also fly over to Green Island on board a Seaplane
Suggestions: If you have a full day available then book the Full Day Big Cat tour to Green Island.
Value for Money
Wow Factor
Fun Factor
Latest Questions about Green Island Reef Cruise Half Day - Reef Rocket (Cairns)
Hi, do you pick up from cruise ships? If not where do we go
Comments
Is it easy to board boat and glass bottom boat.? Can I take my walking aid on main boat.
Comments
Does the glass bottom boat tour take place during the two hours on Green Island? Do we have to book the trip or can we just arrive there in the morning?
Comments
Is pick-up available on afternoon half-day tour on 11Dec to cruise liner dock?
Comments
Hi there
Is the snorkeling equipment included

?
Can a 20 weeks pregnant woman take this tour ?
Comments
I am traveling with Carnival Cruises, how can I get from the cruise to your tour?
Comments
Hi, we will be coming to Cairns in May on a cruise ship. We are travelling in a group of 15. Do you do a group package price?
How long is the glass bottom boat ride around the Island?
Comments
Dear Sirs,
We are looking for a trip to Great Barrier Reef from Cairns with pickup from the Cruise Ship Terminal on 18th of Feb. 2018. We have a party of 5 - 4 adults and 1 12 year old. We would like to have both snorkel for 4 of the members and submersible for all.

Our ship is the Radiance of the Seas. It docks at 7:00am and sails at 5:00pm. We would be able to leave at 7:30am with a return around 3:30pm to 4:00pm. All passengers must be on board 30 minutes prior to sailing at 5pm.

would there be parking close by?
Comments
Do you pick up from Cairns Sunland Leisure Park at Manoora?
Comments
Is this cruise and the glass bottom boat suitable for a three year old? If so, do I need to book a ticket for her?
Comments
Hi I was wondering if you could tell me how long it takes to get from Cairns to Yorky's knob ? If I were to take the 1pm green Island cruise would i get back to the ship at Yorkys Knob in time it leaves at 6pm so I need to be back by 5:45pm
Comments
How much is the semi-sub tour, and can you combine it with the glass bottom boat tour?

Thanks
Comments
is snorkeling included in the price?
Comments
My husband and I are seniors/pensioners and would like to go on a glass bottom boat and see sea life and a cruise as well. We would be staying in a nearby hotel on 21 Apr 2013. How long would this last and how much discounts are seniors given.
Thank you.
Seema
Comments
We will be on a cruise and only in Cairns this trip for a short time unlike our last trip to Cairns when we spent 4 days on a reef tour. Could you tell me if you have any pick up service at the cruise ship port Celebrity Millennium arriving Nov 28th? If not will be be able to get a taxi from your Marina when we return at the end of the day. Please advise.
Thank You,
Karen
Comments
Hi just wondering if we can book it when we get to Cains? Also how many people in the submarine?
Comments
IS THIS SUITABLE FOR WHEELCHAIR
OR WALKER -LADY HAS CEREBRAL
PALSY-WANTS TO EXPERIENCE GLASS
BOTTOM BOAT VIEWING FISH & CORAL.

IS IT A ROUGH VOYAGE


Comments
Good afternoon,
My wife and I are both non swimmers but would like to see some of the ocean delights.
What is the cost for an adult to do the half day tour with glass bottom boat and semi-submersible viewing? (no snorkelling). We will be staying at Lake Placid caravan Park, are transfers available and if yes, at what additional cost? We've heard that the coral in this area is dead, are we likely to see any coral?
Many thanks

Comments
I will be arriving in Yorkey's Knob on Tues 3rd April on the Pacific Dawn. I am travelling in a group of 16 people & I believe most of us are interested in the Half Day Green Island Reef Cruise. I'm not sure how we would get to the Cairns Marina from the ship & even if we would make it in time as the ship is in Port from 9am - 6pm. Can you please advise if it would be possible for us to do this excursion. It sounds great !!
Comments

rating
95% of new customers that used Everything Australia to provide advice and securely book their Australia activities have let us know they've had a good or excellent experience with us. Thank you.