Crocosaurus Cove Cage of Death Darwin
Highly Recommended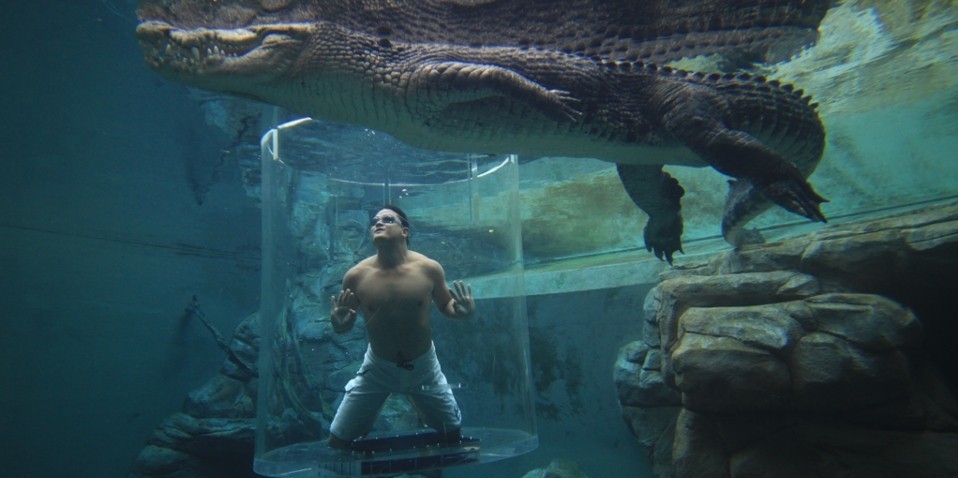 Darwin Crocodile Cage Swim
Description
Did you ever think you could come face to face with a saltwater crocodile and live to tell the tale? Well at Darwin's ultimate adrenaline-pumping wildlife adventure – home of the cage of death – you can!
This one of a kind experience gives you a close look at these amazing creatures, which sit atop of their perspective food chains (which is anything that moves). The Cage of Death is a purposely built submersion tank it which you can get an up close and personal view of these magnificent beasts. This amazingly thrilling adventure begins as you're submersed directly into their environment, where even the solid Cage of Death that surround you won't stop your excitement from rising and your adrenaline flooding though your veins.
To make your experience even more of an adventure, you'll be submersed into three different enclosures for five minutes apiece. The 'cage' is operated via an overhead monorail, which guides you into position, suspended over the top of these giant beasts. As you hang over Australia's largest reptiles, you'll get a sense of how gorgeous – yet extremely dangerous – these modern dinosaurs are! Once lowered into their environment, you can watch as they glide effortlessly around your cage. Freaky! Don't forget to smile for the camera, as the onsite photographers capture amazing images from both inside and outside of the crocodile enclosures.
The crocodiles at Darwin have all made names for themselves and all have unique personalities. Chopper, Denzel, Houdini & Bess all have their own unique style and you'll be amazed to meet them – not so sure if the feeling will be mutual, but this is a day you'll remember for the rest of your life.
Crocosaurus Cove (free entry with Cage of Death bookings)
This is Darwin's definitive wildlife adventure and allows patrons a once in a lifetime, 360 degree awesome experience to view real life dinosaurs. You'll be amazed at these massive saltwater crocodiles and you'll also get to see a range of hatchlings and juveniles. This is also home to the world's largest display of Australian reptiles, so you'll have plenty to see and do on your once in a lifetime wildlife discovery.
Located in the heart of the beautiful Darwin city, the Crocosaurus Cove offers a multifaceted day of adventures for you to undertake; including the fishing for crocs platform, world's largest display of Australian reptiles, 200,000 litre aquarium with daily "Barra" feeding, world of crocs, replica display & museum, bite force, feed the crocs, meet the reptiles, feed the reptiles and much, much more!
Trip Includes
Includes full day entry to Crocosaurus Cove
Cage of Death experience
Uninterrupted views of some of Australia's largest saltwater crocodiles
Safety briefing
Duration
Departures
From 10am - 5pm
Meet at Crocosaurus Cove, 58 Mitchell Street, Darwin City
Operates daily all year
Other Information
Minimum age of participants is 18 years
ID is required for proof of age
Persons between 15-17 years must be accompanied by an adult or person over 18 years of age
Participants will be required to sign an indemnity release form from Crocosaurus Cove prior to the dive time
Participants between 15-17 year of age must have parental consent & indemnity signed by a parent
Photo packages are available to purchase on the day of your experience for $99.95. Includes 50+ still images plus your favourite 8 as postcards
Genuine Customer Reviews powered by
Service rating:
Excellent trip, well organized 👏

Product rating:
Amazing experience, typical friendly Australian, I would love to do it with all 3 crocodile 🐊 😍
Service rating:
After initially calling To enquire about the other The availability of the Cage of Death I was told there's nothing available for a couple of weeks then later that night my wife checked on the site is available the next day so we've reserved only to be told to booking was in confirmed and it was an error in the system the next day then I was offered an alternative date which I agreed to only to be told in fact I was not available.

Product rating:
Overall disappointing and feel missed around
Service rating:
Fabulous
Product rating:
Everything Travel Group Review
You don't have to go far in Darwin find the the famous Saltwater crocodiles- notorious for being prehistoric killing machines.

Darwin is home to the worlds largest population of these reptiles and the surrounding national parks are flooded with warning signs displaying the danger of these large predators.

But venture no further than the central city and smack bang in the middle of Darwin town on Mitchell Street is Crocasaurus... the only place in the world were you can experience Salties up close and personal in the 'Cage of Death'.

Entering the front of the park through huge water freshwater fish tanks emerging into the sun light to see huge tanks housing croc's - from interactive baby croc enclosures to climbing into a
cylinder tank get & lowered into water to splash around with fully grown 5 metre long monsters.

I love a good adrenalin kick- but there's something about being in the water with these beasts that sent chills up my spine and made breathing a bit more rapid than usual.
Although it was dry season the crocs were very relaxed it was a thrill to be so close to these dangerous reptiles.

Check out your photos and DVD after your dive - you might have missed seeing that croc sneaking up behind you and try to make you a mid afternoon snack.
A must do if your into really experiencing one of Australia's deadliest icons!

Value for Money
Thrill Factor
Wow Factor
Fun Factor
Latest Questions about Crocosaurus Cove Cage of Death (Darwin)
Hi, do you supply goggles/ face mask, or do I have to bring my own. I wear contact lenses . Thanks Cheryl
Comments
Can my friend photograph me in the cage from outside or only option is to purchase photograph service from crocasorus cove as extras.
Can you take your own camera into the cage?
Comments
can we use our own cameras
Comments
how big are the crocodiles?
Comments
Do we need to make a booking for the cage of death or can we just show up? If we need to book how do we go about doing that? FYI - We will be getting there on a Saturday.
Comments


rating
93% of new customers that used Everything Australia to provide advice and securely book their Australia activities have let us know they've had a good or excellent experience with us. Thank you.