Rainforest Dining - Flames of the Forest Port Douglas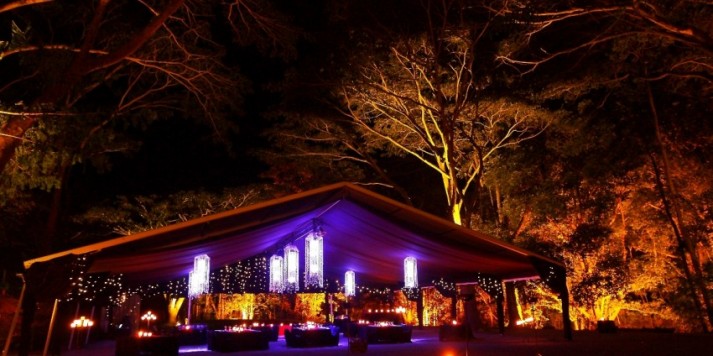 from AUD$189.00
Rainforest Dining - Flames of the Forest
Description
Located just a ten minute journey from Port Douglas and 50 minutes from the city of Cairns is a hidden paradise that takes you far away from the everyday world. Enter a mesmerising rainforest location where you'll experience the glow of true Australian warmth and hospitality and be treated to sumptuous Australian wines and cuisine.
Flames of the Forest takes you to another world, one that's beyond your wildest imagination, and one that will cradle your soul in such ultimate relaxation that you'll be unwilling to leave at the end of your experience. This incredible natural environment and fantasy world will be a sensory experience you'll never forget.
If you are on vacation, you may choose between two experiences depending on your preferences and budget—the Aboriginal Cultural Experience or the Romantic Dining Experience. Dining in the rainforest is vastly different from sitting down to a restaurant meal, not least because of the astounding beauty of the rainforest setting close to Port Douglas. You'll never experience dining quite like this anywhere else in Australia.
Aboriginal Cultural Experience (Tuesday & Thursday nights)
On Tuesday and Thursday evenings, you'll be joined by two brothers, local indigenous people who will share with you snippets of their fascinating culture throughout the experience. They will enable you to experience the delight of exploring the rainforest that they themselves enjoyed as children.
The rainforest offers an astounding natural backdrop against which to showcase this mysterious, mystical and spiritual culture. You will witness a performance that you can only see on a Flames of the Forest dining experience, during which you will discover the ageless Aboriginal oral traditions in a warm and personal manner.
The experience is all-inclusive and will have you enjoying performances by candlelight, dining in a wonderful tropical environment and getting a taste of real Aboriginal culture through music and storytelling. There will be no unwanted extras.
This experience is essential for all visitors who have an interest in Aboriginal culture, history, the tropical rainforest, making new friends and enjoying excellent Australian cuisine! Dining in the rainforest by candlelight is nothing short of magical, and the convenient location close to Port Douglas, Cairns and Palm Cove means you won't have to travel hours to get there.
Romantic Rainforest Dining (Saturday nights)
This is one Saturday evening you'll never forget. Engulfed by the seething rainforest in a spectacular natural setting, you'll be entranced as you enjoy an exquisite tropical tasting menu and the best wines.
This experience is great for honeymooning couples, for those who are looking for a very special experience, for those who love nature, for foodies who love to try new types of food, as a birthday celebration or as a gift to a loved one.
Trip Includes
Aboriginal Cultural Experience
Return coach transfers from Cairns or Port Douglas
Flaming arrival & candle lit forest
Pre dinner drinks with hors d'oeuvres & sparkling wine
Seven dish plattered banquet served to the table
Dessert accompanied by Tableland Coffee & Daintree Tea
Australian sparkling wine, Australian white & red wine, beer & soft drinks
Aboriginal cultural performance featuring didgeridoo, singing & story telling
Cover from the rain gods under a black silk & velvet lined marquee with crystal & budlight chandeliers
Shared tables so guests may meet other intrepid travellers
Romantic Rainforest Dining
Return coach transfers from Cairns or Port Douglas
6 course, plated, tropical tasting menu
Quality Australian sparkling wine, Australian red & white wines, premium beer
Soft drink, juice, water, tea & coffee
Cover from the rain gods under black silk & velvet lined marquee highlighted by sparkling hand made crystal and bud light chandeliers
Live solo acoustic guitarist
Tables can be booked as tables of two or more
Duration
Allow 5 hrs including transfers from Cairns or Port Douglas
Departures
7pm from Port Douglas (returns by 11pm)
6pm from Cairns (returns by 11.30pm)
Pick up from your Cairns or Port Douglas accommodation
Aboriginal Cultural Experience operates Tuesday & Thursday
Romantic Rainforest Dining operates Saturday only
Operates all year except February
Other Information
Wear flat comfortable shoes & a jacket during winter months (May-Oct)
Child rates available for Aboriginal Cultural Experience only
Not recommended for children under the age of 5
Bring your camera
Aboriginal Cultural Experience:
adult (from Cairns) AUD$234.00
adult (from Port Douglas) AUD$219.00
child (6-16yrs) (from Cairns) AUD$195.00
child (6-16yrs) (from Port Douglas) AUD$179.00
Romantic Rainforest Dining :
adult (from Cairns) AUD$199.00
adult (from Port Douglas) AUD$189.00
Autumn / 5:52pm
Easy to book
1 Select

your activities

2 Secure

online payment

3 Instant

email confirmation

4 Flexible

to make changes