Skydiving - Skydive Cairns
Cairns
Highly Recommended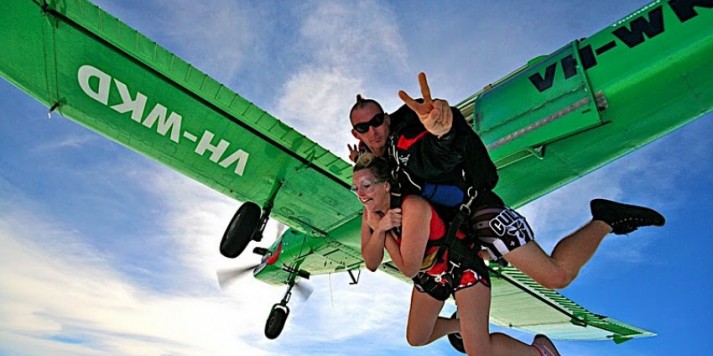 from AUD$299.00
Skydiving - Skydive Cairns
Description
Skydive Cairns is the premier Tandem Skydiving company in Australia and is based in Cairns, North Queensland where it specializes in Tandem Skydiving for both the novice and the professional skydiver. Skydive Cairns has a professional training centre where you are trained for your tandem skydive with one of our professional tandem skydiving instructors.
Taking off at the international airport we fly over the city with breathtaking views of the Trinity inlet and the rainforest. As we climb to height we fly via the tablelands and over the towns water supply, Copolode Dam. We exit just south of the city between 2 mountain ranges in the beautiful green valley overlooking the City and the Trinity inlet. This is one of the 'prettiest' spots you'll ever get to jump. That's why our instructors love working here because the scenery never gets boring!
Almost anyone from 14 years and over can skydive. Tandem jumps are the best way to introduce yourself to the world of skydiving, and once you start, IT'S ADDICTIVE!!!
14,000ft = 60 econds freefall
After your freefall experience, you'll enjoy 5-6 minutes of spirals and turns under canopy.
Trip Includes
Air-conditioned transfers to and from your accommodation (Cairns and northern beaches included)
25 minute flight and spectacular scenic views over Cairns, Great Barrier Reef and rainforest
Cairns largest drop zone for safer landings
Latest modern parachutes equipped with backup automatic parachute deployment computer
Jump certificate of your skydive
14,000ft jump with 60 seconds of freefall
HIGH FLYER GOLD - Upgrade includes:
Chauffer Pick Up and Drop Off (in a Limousine)
14,000ft Exhilarating Tandem Skydive with 60sec Freefall
Professional Instruction & Training & Priority loading
Landing at Skydive Cairns New Exclusive Drop Zone
Utilizing a purpose built skydiving plane with wide doors and spacious interior
Gold Gift Pack – including T-Shirt, Post Card & Laminated Jump Certificate and Exit Photo of your Skydive
A La Carte Lunch with Beverage (wine, champagne, beer etc)Valued at $25 pp
HIGH FLYER PLATINUM
Same as Gold but also including handy Cam DVD and digital photos (value $149)
Duration
Allow approximately 3 hours (depending on weather conditions)
Departures
7.30am, 9am, 12.30pm and 2pm
Pick up from your hotel/backpackers or check in at the Cairns skydive shop, Shops 4 & 5 The General Aviation Aero Centre, 97 Tom MacDonald Drive, Aeroglen
Operates daily
Other Information
Minimum age is 13 years
A partner or friend can come along and watch for free ($20 if you book the High Flyer package as it includes a limo ride)
24 hours must have elapsed since any deep water dive
There is a $35 APF compulsory levy (Australian Parachute Federation) payable on the day
No child rates
Max weight is 115kgs. Please advise at the time of booking if you are over 95kg
DVD & photos package available for purchase on the day (DVD for $130 or dvd and photos for $155)
Weather dependent
Upgrade this activity to one of the following combos:
Autumn / 3:19pm
Easy to book
1 Select

your activities

2 Secure

online payment

3 Instant

email confirmation