Rafting - Extreme Tully River - Raging Thunder
Cairns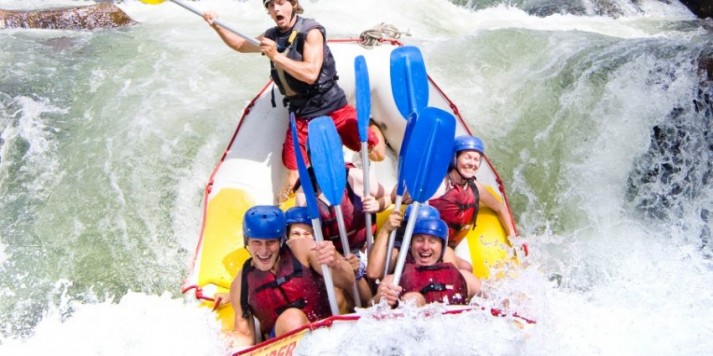 from AUD$189.00
Rafting - Extreme Tully River - Raging Thunder
Description
Specifically designed for those seeking small and intimate group sizes, and extra adventure! Travelling with our senior guides, negotiate your way down the river with a small flotilla of rafts with time to experience body surfing,rock jumping and rapid swims.
Being the first to travel the river each day also gives us a much greater chance to see native wildlife. This allows you to really appreciate the beauty and diversity of the World Heritage Listed rainforest through which you are passing, and the eco-friendly nature of our trip means we take nothing but memories, and leave nothing but footprints. Xtreme Rafting, where the group size is small and the action is large!
Located just 2 hours south of Cairns, the Tully River is regarded as Australia's best river rafting location with its technical, demanding grade 3-4 rapids over 5 hours attracting river guides and rafters from around the world.
The regulated river flow provided by the Kareeya Hydro Power Station makes for perfect rafting conditions, with guaranteed water levels all year round. The Tully River was also home to the Australian Canoe and White Water Championships in 1991.
Add to this the spectacular beauty of the Tully Gorge National Park through which the river runs. The rainforest on both sides of the river is of such international importance that it was protected by a World Heritage Listing in 1987.
Raging Thunder was the first company to start commercial rafting operations on this river back in 1984, and to this day we continue our commitment to take only memories and leave only footprints in this pristine, natural environment.
Begin your day with collection from your accommodation and travel south to the spectacular surroundings that await you. Enjoy a well earned barbeque lunch alongside the river bank. Expect the need to hold on at times on these moderate technical rapids, however no experience is necessary, most of your fellow rafters will never have rafted before. A sense of adventure is a must!
Trip Includes
Approximately 5 hours of white water rafting
Guaranteed small groups
Highly experienced senior guides
Longest trip on the Tully River
BBQ lunch and afternoon snack
Body surfing, rock jumping, rapid swimming and
raft surfing
Guaranteed water levels all year round
All tuition - no experience necessary
All accommodation transfers
Optional Extra's: Photos and merchandise available for purchase same day
Duration
Allow 11 hrs (from Cairns)
Allow 9 hours (from Mission Beach)
Departures
7am from Cairns and Northern Beaches (returns approx 6.30pm)
8am from Mission Beach (returns by 5pm)
Meet in Tully or return Cairns hotel transfers available
Other Information
All Xtreme rafters must be confident swimmers and have good English skills
Minimum age: 15 years (rafters aged 15-17 years must be accompanied by an adult)
Professional photos available for purchase after trip
No previous rafting experience required
Bring your bathers/swimmers, a towel, a change of dry clothes, Sunscreen, money for souvenirs and drinks
Also bring lace up shoes or reef sandals to wear in the raft which WILL get wet (or you can hire them for $4 per pair)
Not suitable for anyone who is pregnant
A $30 per person Pay on Board fee for insurance charges, land management agency prescribed daily client fee, water release fees, transfer costs, GST and administration charges is payable on the day of travel
Everything Travel Group Comments
This white water rafting trip is truly brilliant. You get to actually raft the river and control where the raft should be heading, under guidance of the head guide. Rafts are smaller and can therefore hit tighter gaps and go down rapids the bigger rafts can't. I found this trip to be very rewarding, it was as if I had been on my own personal mission. For anyone that wants to check out amazing scenery and also get active for the day this trip is for you.
Suggestions: Take turns at moving around the raft so you can experience what its like at the front, middle and back. All positions in the raft are quite different.
Thrill Factor: 10/10
Fun Factor: 9/10
Upgrade this activity to one of the following combos:
Autumn / 4:33am
Easy to book
1 Select

your activities

2 Secure

online payment

3 Instant

email confirmation